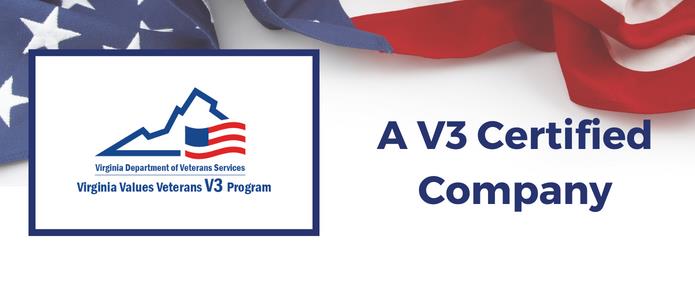 Richmond, VA — October 4, 2023: Technica, a leading government contractor, proudly announces its recent partnership with the Virginia Values Veterans V3 Program. This collaboration marks a significant milestone in Technica's commitment to supporting the men and women who have served our nation in uniform. The company is thrilled to join the V3 Program and is dedicated to crafting effective, long-term strategies for the recruitment, hiring, and retention of Virginia Veterans.
The Virginia Values Veterans V3 Program is renowned for its role in helping employers develop and implement successful, enduring initiatives aimed at recruiting, hiring, training, and retaining Virginia Veterans. Beyond the moral imperative, hiring Veterans is also a strategic business decision, as the knowledge and abilities acquired by today's service members and Veterans in our modern military make them an exceptionally valuable talent pool for companies looking to enhance organizational performance and growth.
"Technica is honored to be part of the Virginia Values Veterans V3 Program. We recognize the incredible value that Veterans bring to our workforce," said Jeffrey Fowler, Executive Vice President at Technica and a retired Veteran. "Through this partnership, we are excited to connect with highly skilled and dedicated individuals who have a diverse range of expertise on working with innovative technologies and integrated solutions tailored to our customers-specific needs and challenges, and more."
About the V3Program:
The V3 Program is organized into four distinct regions to serve member organizations effectively: Southwest, Central, Northern Virginia, and the Hampton Roads/Eastern Shore Region. Each region is supported by a dedicated V3 Membership Manager, ensuring personalized assistance and guidance for employers.
For inquiries related to enrollment, certification, or re-certification with the Virginia Values Veterans V3 Program, interested parties are encouraged to reach out to the appropriate V3 Membership Manager. Detailed information about the V3 Team and its mission can be found on the program's official website.
Technica looks forward to a fruitful partnership with the Virginia Values Veterans V3 Program, working hand in hand to empower Virginia Veterans and create a brighter, more inclusive future for our communities.
About Technica:
Technica supports the defense of the nation's critical networks and systems through the application of advanced solutions for cyber operations that improve the speed and effectiveness of cyber missions. Since 1991, Technica has been providing high-end system engineering services to Defense, Intelligence, Law Enforcement, and Federal civilian agencies. With groundbreaking R&D, Technica's senior scientists and engineers find new, innovative ways to solve complex problems to address today's Cyber Warfare challenges by leveraging Systems Architecture & Integration, DevSecOps, IT Service Management, AIOps, Machine Learning, Artificial Intelligence, and high-performance computing to support its customers.